Did you make New Years Resolutions for 2011? If so, are you on track to achieve them?
If you set resolutions and got off track or didn't set resolutions, setting monthly goals may be for you.
I have to thank Vreni and Kristina for inspiring me to write on this topic. My friend Vreni wrote about this on her Wellness Tips blog in December. Kristina, of Anna and Kristina's Grocery Bag show, wrote about her quest with monthly habits in the Bag Blog in April.
Resolutions Are Exciting… at First
Think about it, it can be exciting yet daunting to set a series of goals in January that you want to achieve by the end of 12 months. To be successful, you need to create a plan of action by breaking down each goal into smaller goals and add timelines and dates AND then you need to follow the plan.
By the time you write out a plan and realize how much work may be involved, the goal may not seem as exciting anymore.
An Alternative… Monthly Goals.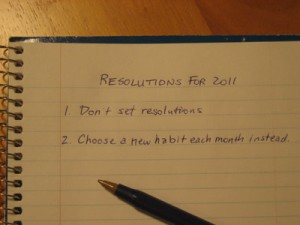 Instead of yearly resolutions, what if you created a monthly goal? It could be a regular type of goal – lose x amount of weight, read 3 books etc.
Better yet. You could choose to create a new habit. For example, you go to bed by 11 pm every night, cut out white sugar, meditate for 10 minutes, or read for 30 minutes every day.
If doing something every day for a month is too daunting, start with a week. The important thing is to be successful and build upon the excitement that generates. Success breeds more success.
Here's how to get started:
Think about what new habits would be of most benefit to you. Write them all down. (Here's some ideas to get you started: 30 Habits to Consider)
Pick one.

If you really want to dig a bit deeper, then…

Think ahead to the end of the month (or 30 days), how will your life be different as a result of you implementing this habit for 30 days? Why is it important to you to be successful?
Time for a gut check. Have you chosen the correct habit for this month? If not, choose a different habit one and go back to step 3.
What could get in the way of you performing this habit each day for the next 30 days? What solution(s) will minimize this from happening?For instance, if you're going to cut out white sugar for the month – clear your house of any sugar or items containing sugar. That way you won't be tempted when you see it. You don't have to throw them out, although their nutritional value is minimal at best, you can store them at a friend's place perhaps.If you're going to do a yoga class after work each day, pack your yoga gear the night before and leave it near the front door so you remember to take it to work with you. Consider having a buddy do the classes with you.
Finally, visualize yourself successfully performing the habit. Notice how great it feels to be successful.
One Last Thing…
It's never to let to start. If you're reading this after the 1st of the month, start now. You don't need to wait until the beginning of the month to start. You can choose to keep going with this habit at the beginning of the month or pick a new habit.
I started mid-March with my first habit: no-dairy. I just wanted to see what affect, if any, that would have on my body. I'm still pondering which habit to adopt for May. Right now it's between meditating for 10 min., starting the day with yoga for 10 min., and/or going to bed before 11 pm.
What about you? What habit will you adopt this month?
Photo Source (Scale): Jeff Golden on Flickr